MISSION STATEMENT:

Working together to maintain sustainable recreation and economic stability in the Detroit Lake area
================================================================================================
Next meeting Spring meeting on 15 July 2015. Time 6.30 PM at Gate Fire Department
FLRCDL Meeting on April 15,2015
Lake Information
The low to nil snow pack will have effects on filling Detroit Lake to the full summer season levels. The Corps had a presentation (attached) of different filling rates based on what mother nature may or may not provide.
I was just advised be the Corps that the outflows from Detroit dam will be lowered to 1000 cfs starting this evening April, 2015.
The plan is to get the lake level up to at least the dam's spillway level of 1544' , which will then allow warmer water to be spilled to raise the river temperature later in the summer to assist fish.So getting the lake up as high as nature will allow and keeping it up, is a win win deal. Both fish needs and recreation appear to be on the same mission this year.
Bottom line is that Detroit Lake will be slower filling than what it would do in a "normal" weather year.
It appears that the lake will not reach the "full" mark, but should reach levels that will allow for a boating season. All planned events around the lake are a "go" at this point.
The normal four boat rams at Mongold are not in use yet due to the lower lake levels, however the newer "winter" ramp at Mongld is in operation.
Both Kanes and Detroit marinas, plan to open when water levels reach levels that float their docks. Contact your respective marinas later on to find out what date they will open up for boats.
The Detroit State park has been canceling reservation of boat docks for early season campers, since the docks are grounded till the water levels rise.Contact the park for the latest information.
Please keep a positive outlook on this years recreation seaon, as everyone is onboard and working to get us a lake at a level that will support the boating/recreation use
April 2015 FLRCDL PowerPoint Briefing
=======================================================================================
Willamette National Forest Web Page for the Detroit Lake Recreation Enhancement & Shoreline Restoration Design Project
Final Project Design
Detroit Lake Shoreline Kanes Part 2
Detroi Lake Shoreline Detroit Flats Part 3
Detroi Lake Shoreline Piety Inland Part 4
Detroit Lake Santiam Flats Part 5
This project is funded by Title II of the Secure Rural Schools Act through a partnership between the Federal Lakes Recreation Committee for Detroit Lake, the US Forest Service and the University of Oregon's Department of Landscape Architecture.
Please contact Recreation Staff Officer Dani Pavoni at (503)854-4208 for additional information.
=============================================================================================
Boating Brochure
Can be Obtained at various Locations Around Town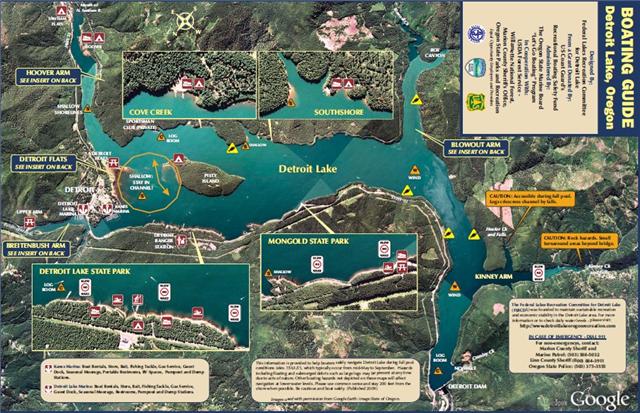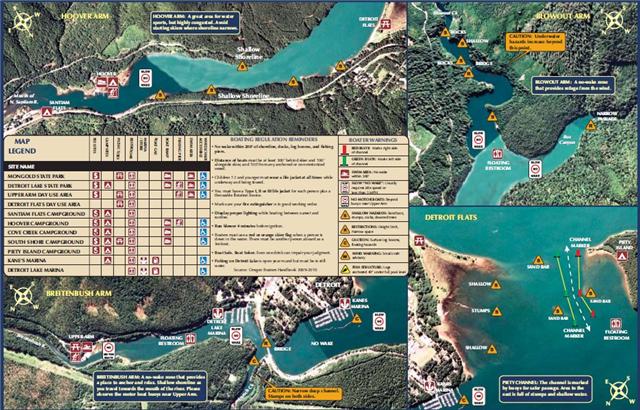 You Can Down Load The PDF At :
=================================================================================================
Unwanted Plants and Animals Can Ruin Your Favorite Fishing and Boating Waters