MISSION STATEMENT:

Working together to maintain sustainable recreation and economic stability in the Detroit Lake area
================================================================================================
Next meeting Spring meeting on 15 July 2015. Time 6.30 PM at Gate Fire Department
New Water Information From The
Army Corps of Engineers Water Update as of 04/28
Detroit Reservoir
It is difficult to know how full our reservoirs will get this summer. The amount of rain we receive this spring and summer is the primary deciding factor.
We have developed refill scenarios based on the Natural Resource Conservation Service's April 1, 2015, water supply forecasts for a drier than normal spring and summer, and our own 25-75% exceedance probability reservoir elevations. In other words, there is about a 50% chance of actual water levels being within these predicted elevation ranges. With those caveats …
We do not predict significant impacts on our ability to accomplish our hydropower and water supply missions.
We do not predict significant impacts on our ability to produce mainstem Willamette or tributary flows that support navigation and water quality standards.
We predict difficulties meeting some tributary and mainstem Willamette flow targets that support the lifecycles of endangered fish species. We are working with our fish and wildlife partners to identify minimum acceptable flow targets for each, and the priority for meeting them.
We predict that we will be unable to meet downriver water temperature targets in the McKenzie and Middle Fork Willamette rivers required to support the lifecycles of endangered fish species, and will have only a limited ability to do so in the North Santiam River.
We predict significant impacts to recreation at most of our reservoirs:
Detroit Reservoir Water Levels:
Will likely reach elevation 1,526-1,533 feet above sea level by Memorial Day.

Will likely reach a maximum elevation of 1,541 feet above sea level by June 30.

Will likely recede to elevation 1,506-1,518 feet above sea level by Labor Day.
For full News release for all Reservoirs go to the link below.
Army Corps of Engineer Water Update
April 2015 FLRCDL PowerPoint Briefing
From Meeting on 04/15/15
=======================================================================================
Willamette National Forest Web Page for the Detroit Lake Recreation Enhancement & Shoreline Restoration Design Project
Final Project Design
Detroit Lake Shoreline Kanes Part 2
Detroi Lake Shoreline Detroit Flats Part 3
Detroi Lake Shoreline Piety Inland Part 4
Detroit Lake Santiam Flats Part 5
This project is funded by Title II of the Secure Rural Schools Act through a partnership between the Federal Lakes Recreation Committee for Detroit Lake, the US Forest Service and the University of Oregon's Department of Landscape Architecture.
Please contact Recreation Staff Officer Dani Pavoni at (503)854-4208 for additional information.
=============================================================================================
Boating Brochure
Can be Obtained at various Locations Around Town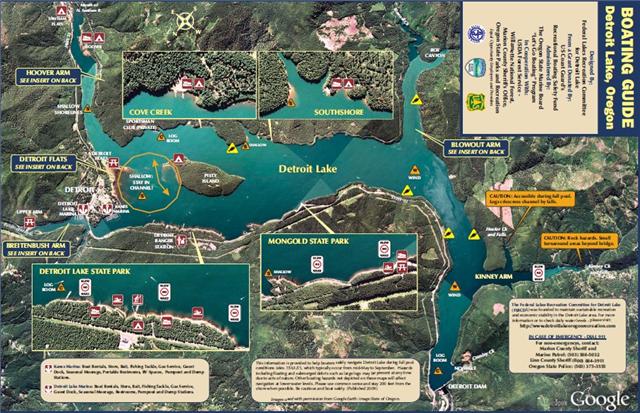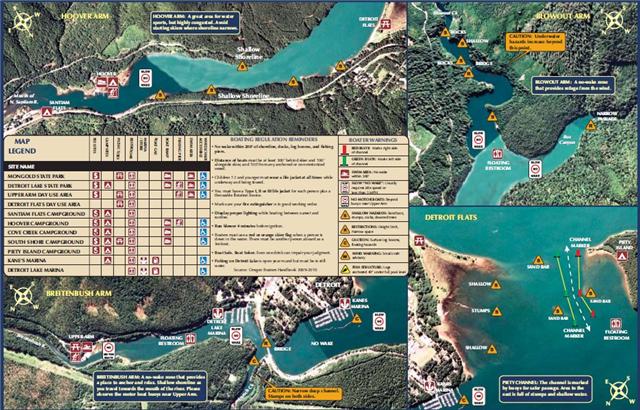 You Can Down Load The PDF At :
=================================================================================================
Unwanted Plants and Animals Can Ruin Your Favorite Fishing and Boating Waters